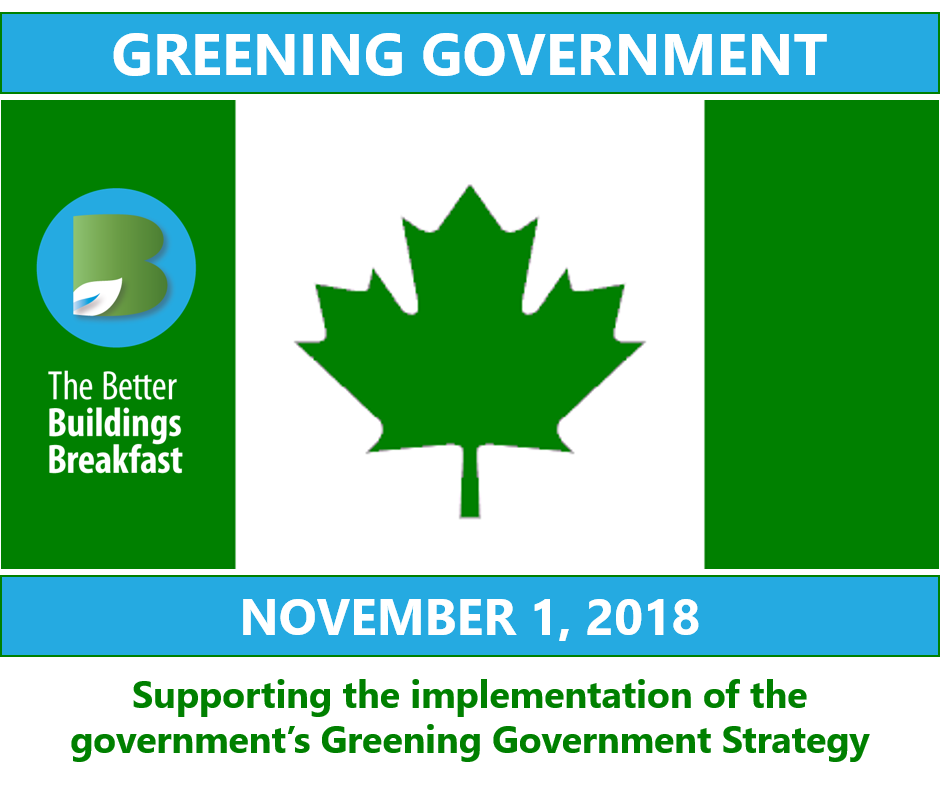 Greening Government Strategy
On November 1st, 2018 the Better Buildings Breakfast welcomes Treasury Board of Canada Secretariat – The Centre for Greening Government for an informative talk on the Greening Government Strategy.
The Government of Canada will transition to low-carbon and climate-resilient operations, while also reducing environmental impacts beyond carbon. Led by the Centre for Greening Government of the Treasury Board of Canada Secretariat, the Government of Canada will ensure that Canada is a global leader in government operations that are low-carbon, resilient and green.
The government commits to:
• Low-carbon, sustainable and climate resilient real property.
• Low-carbon mobility and fleet.
• Climate resilient assets, services, and operations.
• Green goods and services.
Anyone involved in real property, fleet and selling goods and service to the federal government will benefit from learning first hand about the mandate of the Centre for Greening Government to provide leadership towards low-carbon, resilient and green Government of Canada operations.
Join us on November 1st, 2018 for our next Better Buildings Breakfast focusing on Treasury Board of Canada Secretariat The Centre for Greening Government "Supporting climate action and sustainability in government operations".

Greening Government – Progress and Future Directions
Mr. Xenos will discuss the Government of Canada's Greening Government Strategy (follow link to learn more) and the Role of the Treasury Board of Canada Secretariat's – Centre for Greening Government as well as partner departments role in implementing it. He will discuss progress to date and future directions.
About Nick Xenos
Nick Xenos is the Executive Director of the Centre for Greening Government within the Treasury Board Secretariat of the Government of Canada. The Centre is working with departments and agencies towards low-carbon, sustainable and climate-resilient government operations with a goal to lower government emissions by 40% by 2030 and 80% by 2050. Previous to this position Mr. Xenos worked at Natural Resources Canada on climate change impacts and adaptation and at Indigenous and Northern Affairs Canada on Arctic science policy issues and on building the Canadian High Arctic Research Station. Mr. Xenos has a Master's in Business Administration from Dalhousie University and a Bachelor of Commerce from the University of Ottawa.

Commitment to Investing in Green Infrastructure
Library and Archives Canada (LAC) is excited to be on the forefront of the implementation of the Government of Canada's Greening Government Strategy. The New Preservation Centre will be the first federal "special purpose" infrastructure, following the implementation of the Strategy, to be constructed Net Zero Carbon. This innovative Public-Private Partnership project supports LAC's a long-term view for preserving Canada's documentary heritage, as well as a commitment to investing in green infrastructure for its present and future benefits.
"The New Facility will provide LAC with specialized, flexible, sustainable and clean infrastructure that is aligned with the Government of Canada's priorities to invest in sustainable federal infrastructure and Canadian culture."
About Nathalie Ethier
As the Gatineau 2 Project Director, Nathalie is orchestrating Library and Archives Canada's (LAC) largest infrastructure project: the construction of a new state-of-the-art archival Preservation Centre in Gatineau, Québec. She is dedicated to delivering a second Preservation Centre that meets the needs and expectations of all Canadians, while assuring an efficient and safe environment for LAC employees.
Nathalie has a Master's degree in Public Administration from l'École nationale d'administration publique. Over the past 25 years in the public sector, she has gained a wide experience in the fields of Project Management, Strategic Planning, Performance Management, Accountability and most recently Public-Private Partnership.

About Jeanette M. Southwood
Jeanette is Vice President, Corporate Affairs and Strategic Partnerships, at Engineers Canada, the organization of the 12 regulators that license Canada's more than 295,000 members of the engineering profession. Prior to Engineers Canada, she led the Canadian Urban Development & Infrastructure Sector and the Global Sustainable Cities teams at an international consultancy. At Engineers Canada, Jeanette's team's portfolios include: Public Affairs – Government Relations and Public Policy; Diversity; Globalization and Sustainable Development – including Adaptation, Infrastructure Resilience and Climate Change; Member Services; and Communications. Jeanette is a Fellow of Engineers Canada, and recipient of Ontario's "Leading Women Building Communities Award". She was named one of Canada's Clean50 2014 for work and dedication to sustainable development, leading change, championing innovation and changing our world for the better. She is a Fellow of the Canadian Academy of Engineering recognizing engineers' exemplary contributions towards their disciplinary fields and the wider community. A dedicated volunteer and on several Boards over the years, Jeanette has received an Honorary Doctorate, Ontario Professional Engineers Awards (OPEA) Engineering Excellence Medal, and is among WXN's Top 100. In 2017, she was recognized among the Women of Innovation and, in 2018, was inducted into Professional Engineers Ontario's Order of Honour.

Hellenic Meeting & Reception Centre
1315 Prince Of Wales Dr. Ottawa ON K2C 1N2
Agenda:
7:15 – Doors open – Networking-Buffet Breakfast
7:50 – Opening remarks
7:55 – Sponsor introduction
8:00 – Nick Xenos – Greening Government – Progress and Future Direction
8:20 – Nathalie Ethier – Commitment to Investing in Green Infrastructure
8:40 – Jeanette M. Southwood – Engineers Canada
9:00 – Q & A Discussion
9:30 – Wrap Up – Networking
Cost:
$55. plus HST and
EventBrite.com
fees per breakfast.
$45. Students with valid ID plus HST and
Eventbrite.com
fees.
$70. Plus HST at the door if not sold out
Enquiries and Sponsorship Information:
 
Copyright © 2018 Better Buildings Breakfast, All rights reserved. 
Our mailing address is:
Better Buildings Breakfast,  5 Whitebirch Drive, Kemptville, On  K0G 1J0 Canada