May 30th, 2018
BETTER BUILDINGS ARE WELL & FITWEL

The Green Building movement has been expanded from a focus on energy reduction and conservation to a holistic approach on the effects that the building has on the people who occupy it.
For business, we are constantly searching for the highest returns on our investments, but we seldom measure the impact of our work environments and the effects that our choices in accommodations have on the wellness and productivity of our people.
Buildings have a direct impact on illness, absenteeism and worker productivity. Healthy buildings have better ventilation systems, better thermal comfort, fewer toxins in the air and tend to have great access to natural light. Couple this with nutrition and fitness, tenants will benefit from healthier, happier employees and a more productive office environment.
Join us for our next Better Buildings Breakfast focusing on optimizing occupant health, wellness and employee productivity through the WELL Building Standard and Fitwel Certification.

Fitwel: Driving Occupant Health and Wellness for the Building Industry
Owners and tenants are expanding the concept of sustainability to include wellness—the health and wellbeing of building occupants. As many organizations realize the benefits of incorporating wellness goals into building design, they are pursuing certification standards to validate their efforts.
The Fitwel Certification System is the world's leading certification system that optimizes buildings to support health. Fitwel is currently available for office and multifamily residential properties and was created by the U.S. Centers for Disease Control and Prevention (CDC) together with the General Services Administration (GSA). The Center for Active Design (CfAD), an international non-profit, was selected by the U.S. government to be the licensed operator of Fitwel, a currently leads its future development and use within the private and public sectors.

WELL Building Standard: Buildings as Preventative Care
We spend over 90% of our time indoors and our buildings and communities have a profound impact on our health and well-being. We need to take a data-driven approach to creating healthy spaces because our bodies react to the quality of the air we breathe, the water we drink, the light we see and the sounds we hear. We can't improve what we don't measure, therefore our environments should be optimized and tested to promote health and well-being.
The WELL Building Standard™ (WELL) provides over 100 strategies for creating healthy spaces. All strategies are based on scientific research that demonstrates an impact on human health. WELL outlines a comprehensive approach to creating healthy spaces by providing a variety of achievable strategies, including design criteria, operational protocols, personnel policies and performance thresholds. Projects pursue WELL Certification to demonstrate that they are meeting WELL's global benchmarks for performance, gaining recognition for their visible commitment to human health.
About John Smiciklas
John Smiciklas is the Director, BOMA BEST for BOMA Canada. In that position, John leads the BOMA BEST Sustainable Existing Building certification program, the BOMA Sustainable Workplaces program and manages the Fitwel strategic partnership. John also leading the development of the United for Smart Sustainable Cities KPIs and the development of the Smart Sustainable Cities Index in conjunction with 17 UN agencies and is a founding member of the UN Sustainable Development Goals Cities Platform. John's prior experience includes various global leadership roles focussed on sustainability and corporate responsibility. John holds a B.A.Sc., Engineering (University of Toronto), is the author of a number of UN Agency papers focussing on technology and sustainability, was a UN Delegate to the COP 16 Global climate change talks and is a member of Canadian ISO standards committees for climate change, quality and city indicators.
About Peter Smith
As Senior Vice President at the International WELL Building Institute (IWBI), Peter leads the Market Development team driving the global growth and adoption of the WELL Building Standard. He is engaged with leading financial institutions, commercial real estate firms, and multifamily developers pursuing WELL Certification across their portfolios. Peter is also an active speaker and educator, promoting WELL through industry events and technical workshops.
Previously, Peter served as Vice President of Delos Solutions, a team of consultants and subject matter experts incorporating health and wellness strategies into pioneering projects pursuing WELL Certification. Working closely with Delos Labs, an internal research group, his team identified best-in-class design solutions, products and technologies to improve the built environment and optimize human comfort and well-being.
Peter has an extensive background in building science and energy efficiency. Prior to joining Delos and IWBI, he worked as a Sustainability Consultant at Steven Winter Associates, an industry leading green building consulting firm. Focusing on affordable housing in the greater New York City area, Peter engaged with multifamily developers to implement sustainable design principles and high-performance measures into new construction projects.
Peter holds a bachelor's degree from Colgate University in Environmental Economics and is pursuing an MBA from Columbia Business School.

Hellenic Meeting & Reception Centre
1315 Prince Of Wales Dr. Ottawa ON K2C 1N2
Agenda:
7:15 – Doors open – Networking-Buffet Breakfast
7:50 – Opening remarks
7:55 – Sponsor introduction
8:00 – Peter Smith – WELL Building Standard: Buildings as Preventative Care
8:30 – John Smiciklas – Fitwel: Driving Occupant Health and Wellness for the Building Industry
9:00 – Q & A Discussion
9:30 – Wrap Up – Networking
Cost:
$55. plus HST and EventBrite.com fees per breakfast.
$45. Students with valid ID plus HST and Eventbrite.com fees.
$70. Plus HST at the door if not sold out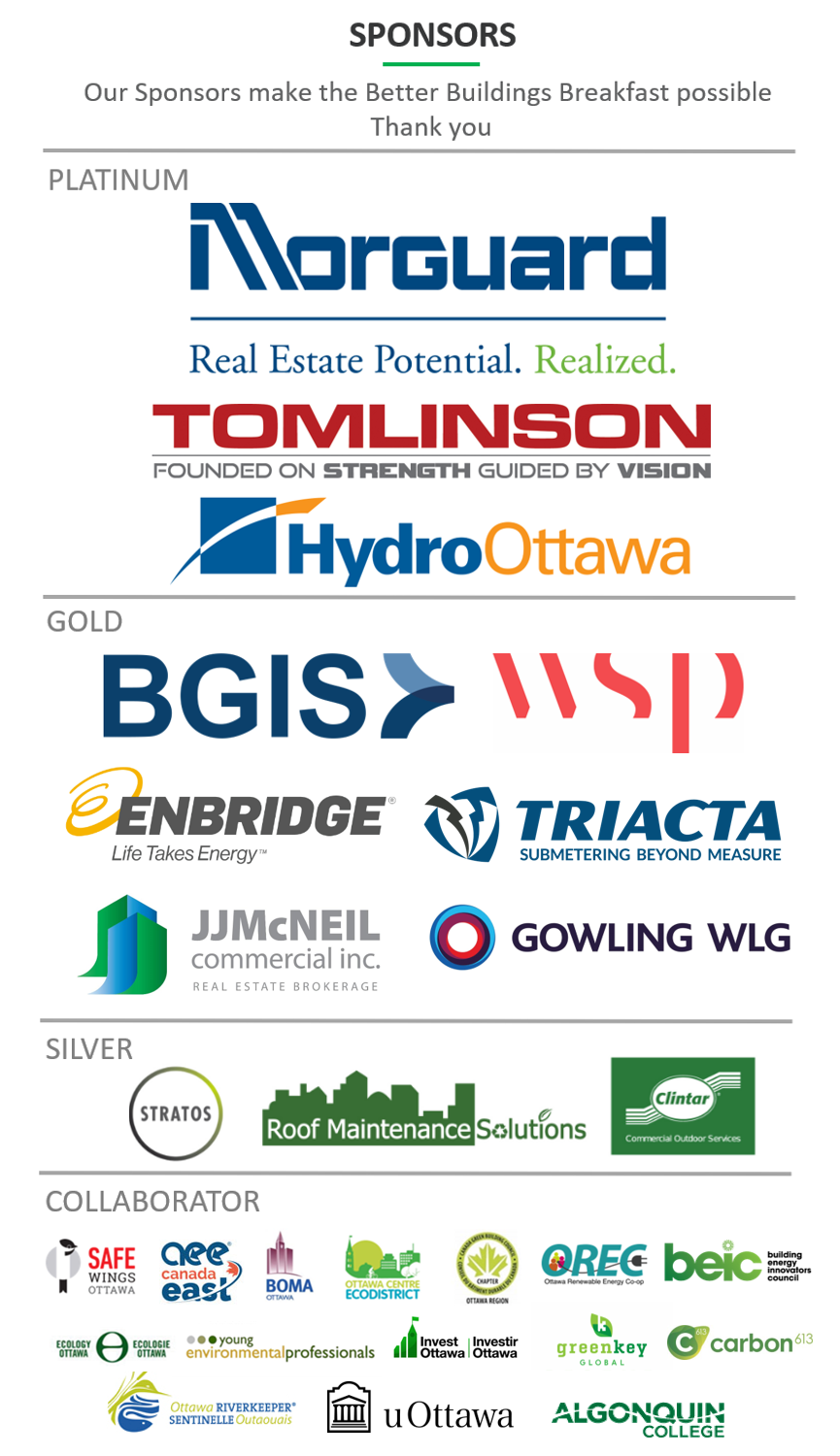 Enquiries and Sponsorship Information:
Copyright © 2018 Better Buildings Breakfast, All rights reserved. 
Our mailing address is:
Better Buildings Breakfast,  5 Whitebirch Drive, Kemptville, On  K0G 1J0 Canada