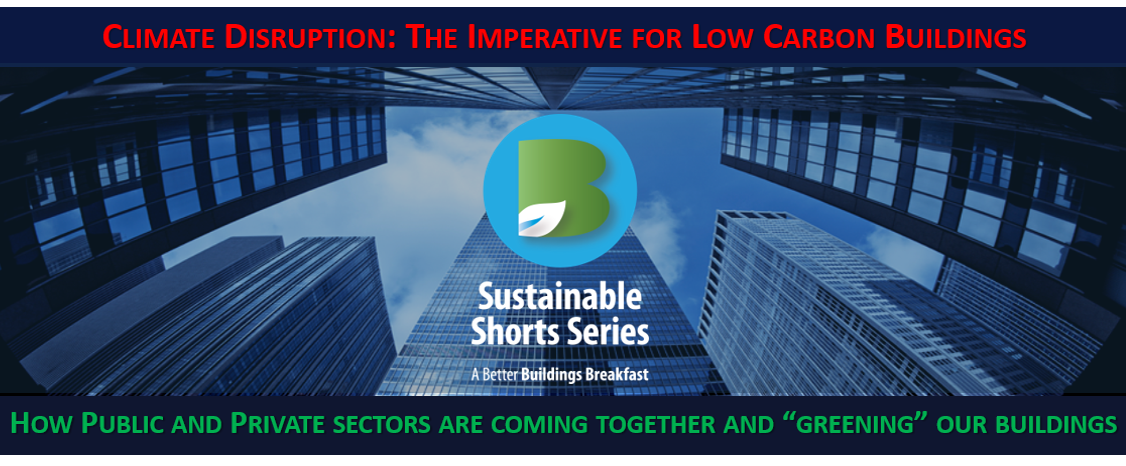 The Better Buildings Breakfast:
Sustainable Shorts Series
We will be kicking off the season on September 28th 
with
a new concept that will run along with our traditional Breakfasts.
"The Better Buildings Breakfast – Sustainable Shorts Series."
The concept is a mini conference that runs from 8:00 to 11:00 am.
Learn from experts in the field of sustainability,
Join us for this inaugural "Sustainable Short":
Climate Disruption:
The Imperative 
for Low Carbon Buildings
Climate disruption poses a serious threat to our environment, health and economy and is one of the defining challenges of our time.
Buildings are a significant cause of GHG emissions. With approximately half a million commercial and institutional buildings in Canada alone, there is a huge opportunity for those working in the buildings industry to have a positive impact on environmental sustainability.
The good news is that government, the green building industry and the private sector are taking action to address climate disruption by embracing and implementing sustainable policies, programs and innovative technologies across the built environment.
We invite you to join us on September 28 in which an interactive panel of recognized experts from government, CaGBC and the private sector convene to discuss the impact of climate disruption. They will share progress being made, outline best practises to adopt and discuss the emerging technologies that will ensure the sustainability of our environment and our operations for years to come.

1. Twelve Month Progress Update –
Meeting the goals of the Vancouver Declaration
on Climate Change in facilities owned,
operated and leased by PSPC
Speakers:
Maxime St-Denis, Manager, National Centre of Expertise Manager for Climate Action,
GHG and Energy, Compliance and Conformance Directorate, Real Property Branch, PSPC
Daniel Gosselin, National Director, Energy, BGIS
The Vancouver Declaration on Climate Change combined with the Federal Sustainability Development Strategy has set important goals to reduce greenhouse gas (GHG) emissions while growing the economy and supporting our social systems. It has been one year since, PSPC, in collaboration with BGIS, developed a framework to reduce the environmental impact of federally-owned, operated and leased facilities across the country.

This presentation will provide the audience with a 12-month progress update on how PSPC and BGIS are implementing the Vancouver Declaration on Climate Change in facilities owned, operated and leased by PSPC.
2. Carbon as the new metric:
CaGBC's Zero Carbon Building Standard
Speaker:
Mark Hutchinson,
Vice President, Green Building Programs at Canada Green Building Council – CaGBC
The objective is audacious: to eliminate emissions from buildings by 2050. The CaGBC's Zero Carbon Buildings Initiative will provide the clarity required for industry to move toward this goal, redefining what should be the top environmental consideration for building design and retrofit – and the benchmark for building operations. This session will explain the imperative of using carbon as the key metric for building performance and introduce the new Zero Carbon Building Standard, which is the first of its kind in Canada.
3. Using Gamification and the IoT to Drive Corporate
Real Estate and Sustainability Initiatives
Speaker:
Lorri Rowlandson,
Senior Vice President, Strategy and Innovation, BGIS
The Internet of Things (IoT), ubiquitous mobile devices, wireless technology, wearables, sensors, big data and cloud computing have changed the way we live our lives and the way we conduct business. Digital disruption has enabled gamification to become both an affordable and scalable way for businesses to drive behaviour change, gather feedback and encourage sustainability and energy conservation amongst employees.
Gamification incorporates scientific and neurological research to develop and inform apps and employee programs that motivate people to change behaviours, develop new skills or engage in innovation. More and more leading businesses are borrowing a page from the video gaming playbook to encourage employees to engage in friendly social competition with each other, in order to meet corporate environmental initiatives.
This presentation will provide an overview on the latest IoT and gamification trends in the industry, details around how a gamification approach can encourage behavioural change and drive corporate sustainability initiatives and the key elements that should be included in any organization that wants to launch a successful corporate gamification program.

Nuno is Vice President, Professional Services, at BGIS. In this role, he oversees a team of professionals who deliver sustainability solutions, energy management, commissioning and capital planning projects to North American clients with real estate portfolios.
Nuno is a Mechanical Engineer with 17 years of experience. He holds a Master of Engineering Science and Bachelor of Engineering, with expertise in sustainability, building performance and energy efficiency.
Nuno has significant experience in consulting, business unit leadership, business development and project management, and is a recognized leader in capital planning, building conditioning, commissioning and recommissioning. His 17 years of experience in industry operations helps optimize building performance and drive efficiencies for clients in the corporate real estate industry.
Nuno's broad cross-sector experience includes providing leadership and direction on hundreds of projects and pursuits in various fields including aviation, transit, corporate real estate, and data centres.

Max and his team are responsible for the implementation and continuous improvement of an Enterprise Energy Management System for PWGSC. He is a Building Engineer with a Bachelor of Engineering from the University of Concordia and has also completed his Energy Engineer certification. For the better part of the last eighteen years, Max has worked as an energy specialist for the Federal government. He started his career at NRCan in building system research & development and then moved on to PWGSC, where he focused his attention on portfolio energy management, energy project implementation and quality control on construction projects with a focus on maximizing energy efficiency potential.

Daniel has specialized in the execution of capital projects. Over the last ten years,Mr. Gosselin has focused his attention on delivering practical sustainability solutions, including facilitating LEED design and construction services. More specifically, he has led teams in the delivery of energy conservation projects, primarily focused on Heating, Ventilation and Air Conditioning (HVAC). Projects included geothermal heating and cooling as well as extensive deep energy retrofits in occupied facilities and industrial power plants. Daniel has a bachelor of engineering from McGill University, is a certified energy manager and a professional project manager.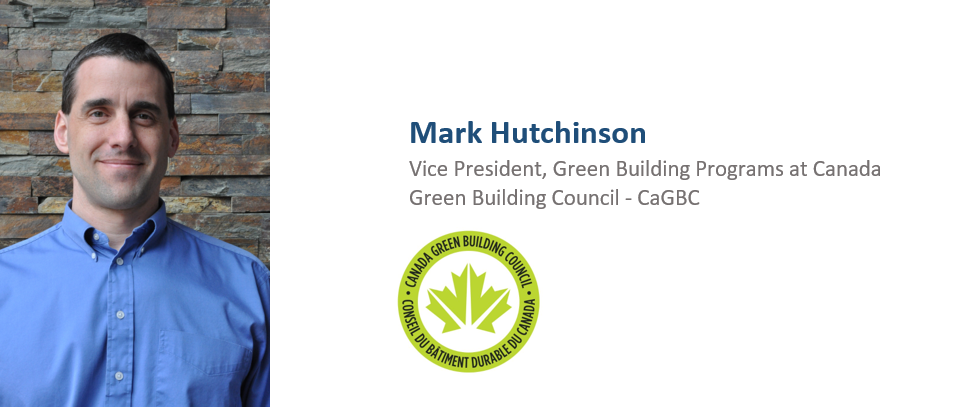 Mark Hutchinson has worked with the Canada Green Building Council for the last nine years. As Vice President of Green Building Programs, he oversees the strategic direction and operation of the LEED building certification program in Canada. He currently serves as Immediate Past Chair of the USGBC's LEED Steering Committee, which oversees the development and application of the LEED program globally. He also participates in the LEED International Roundtable and the LEED Canada Steering Committee. Mark oversees the development and application of new certification programs, including the development of CaGBC's Zero Carbon Buildings Standard.

Lorri is Senior Vice President, Strategy and Innovation at BGIS. In this role, she works globally with BGIS account and product line teams to assist in identifying real estate solutions that create value for customers. She also acts as an advisor to senior real estate executives and client organizations by providing real estate consulting support, which defines and drives value across businesses.
Lorri has a Bachelor's degree in Business Administration, a business degree in Real Estate from Harvard University, a Masters of Corporate Real Estate (MCR) from CoreNet, is an Accredited Outsourcing Practitioner (AOP) and is a Certified Deal Architect (CDA) with Vested Outsourcing from University of Tennessee.
Prior to joining BGIS, Lorri was a senior consultant at one of Canada's most respected public private partnership and real estate consulting firms and has previously worked at both a prominent financial institution and multinational technology company.
Lorri is a highly sought-after industry expert and has participated in over 50 speaking engagements on emerging trends, innovation and thought leadership in real estate and outsourcing. Lorri's influence across the real estate sector and beyond is further demonstrated through her presence across social media channels with over 25,000 followers across Twitter and LinkedIn.
7:15 – Doors open – Networking – Buffet Breakfast
7:45 – Opening remarks – Ottawa Green Real Estate Market Update – James McNeil
8:00 – Introduction – Nuno Duarte, VP Professional Services, BGIS
8:15 – 1- year Progress Update:
Declaration on Climate Change in Facilities Owned, Operated and Leased by PSP –
Daniel Gosselin (BGIS) & Maxime St. Denis (PSPC)
8:45 – Carbon as the new metric: CaGBC's Zero Carbon Building Standard – Mark Hutchinson
9:15 – Networking Break
9:30 – Go Spaces: Gamification of Corporate Real Estate – Lorri Rowlandson
10:00 – Be part of the dialogue – Interactive Panel Discussion
11:00 – Adjournment
Early Bird available until August 31st
$55. plus, HST and Eventbrite fees
$35. plus, HST and Eventbrite fees for Students with valid ID
After August 31st
$75. plus, HST and Eventbrite fees
$55. plus, HST and Eventbrite fees for Students with valid ID
$100. plus, HST at the door if not sold out
Enquiries and Sponsorship Information: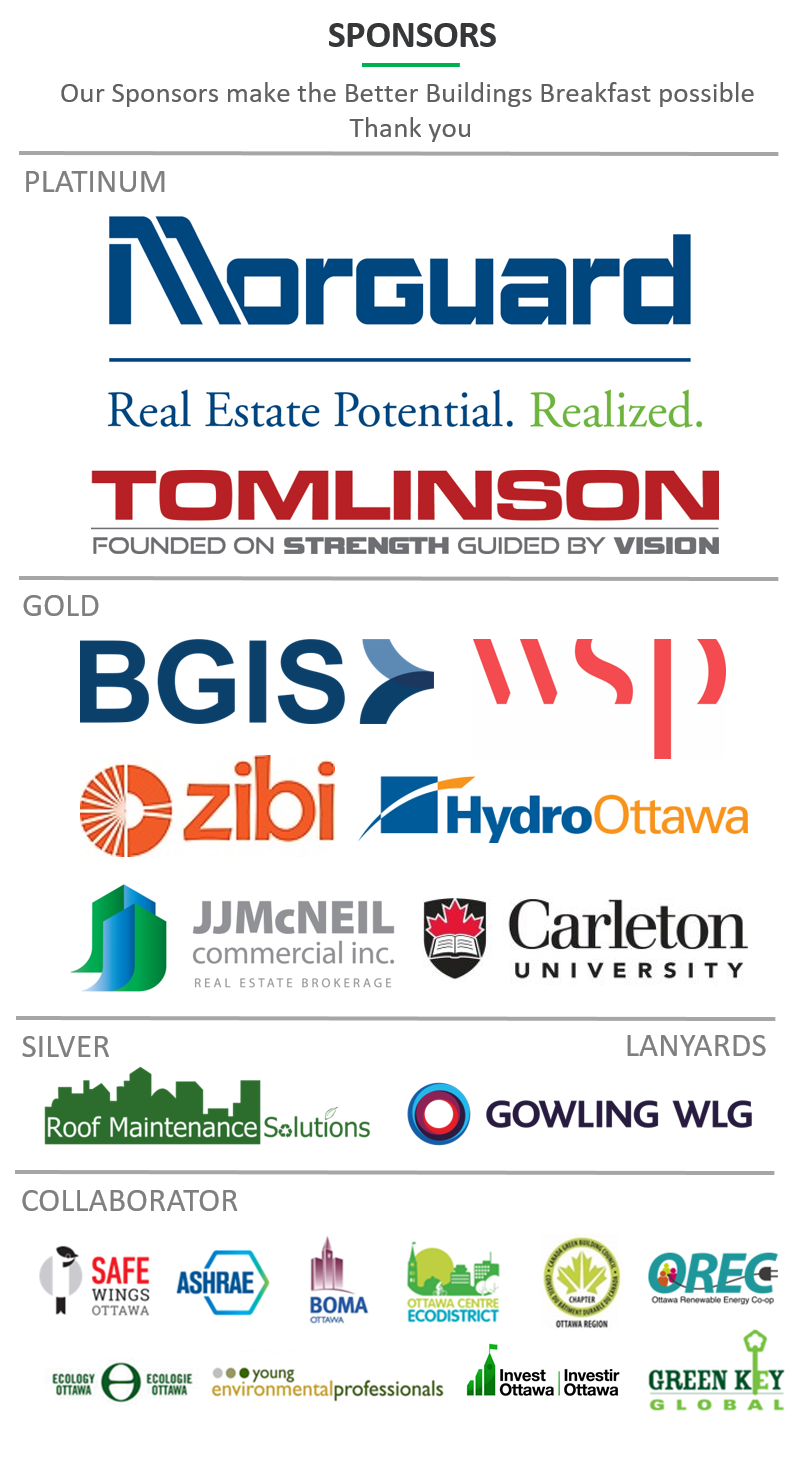 Copyright © 2017 Better Buildings Breakfast, All rights reserved. 
Our mailing address is:
Better Buildings Breakfast,  5 Whitebirch Drive, Kemptville, On  K0G 1J0 Canada