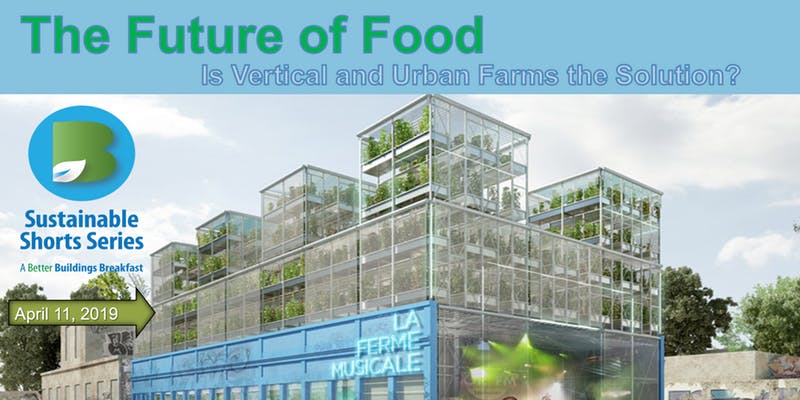 April 11th, 2019 
Queen St. Fare,  170 Queen Street
The Future of Food –
Is vertical and urban farms the solution?
As we navigate climate change mitigation and adaption, efforts have traditionally been focused on energy, transportation, and buildings. However, we are missing a fundamental piece of the puzzle – food.
According to the UN, by 2050, we will reach a global population of 10 billion; 70% of people will be living in an urban centre, and we will need additional agricultural landmass the size of Brazil to feed the anticipated population. That land does not exist. How can we continue to grow our food with less land, less resources, and less energy?
At the Better Buildings Breakfast on April 11th an engaging panel of experts from the agriculture and building industries will come together to tackle these questions and share their insights on the Future of Food. They will describe the current state of sustainability on a global and national scale, demonstrate the necessity of cross-sector collaboration, inform us on the growing global trend of urban agriculture and indoor vertical farming, and discuss the emerging technologies that will help us redefine food production and consumption in an ever-changing climate.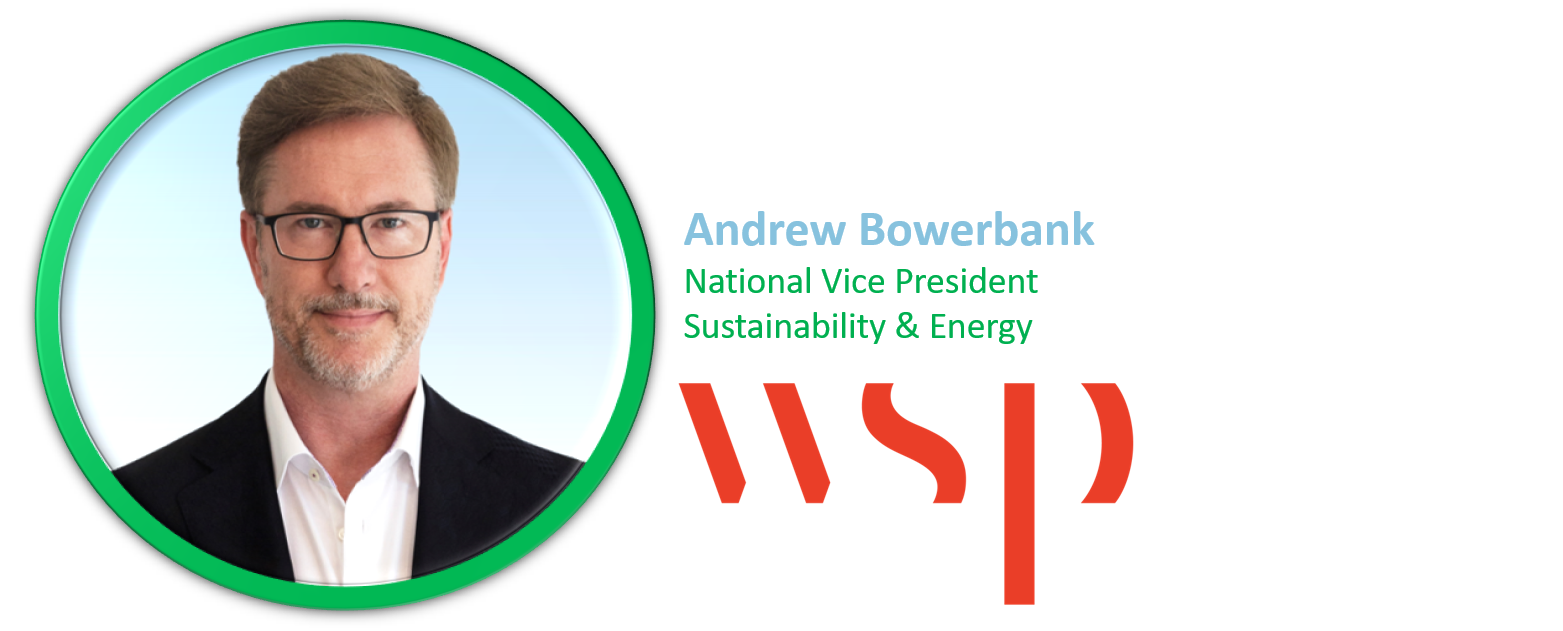 Global issues of our day including rapid population growth, climate change, resource depletion access to food and more are projected to have a dramatic impact on society. What will be the global response strategy to these issues over the coming decades? Andrew Bowerbank will explore how investments in new innovations will help us plan for the future, and demonstrate how collaborative leadership can drive change in the marketplace towards a sustainable economy.
About Andrew
Andrew Bowerbank is well known to the energy, infrastructure, and cleantech sectors in Canada and internationally. Through his experiences, he has developed the ability to identify new market opportunities and demonstrate the effectiveness of collaboration across industry sectors to achieve results. Today, Mr. Bowerbank is the National Vice President, Sustainability & Energy at WSP, one of the largest engineering consulting fims in the world.
Prior to joining WSP in 2018, Mr. Bowerbank held executive positions across a number of well recognized corporations including EllisDon and Magna International. He has also acted as a representative for Canada's Department of Foreign Affairs at international events and he has held board seats on public agencies including the Federation of Canadian Municipalities.
Mr. Bowerbank is the former CEO of the World Green Building Council (2007-10) where he successfully worked with Council members to grow the WorldGBC from 8 founding nations to over 60 member countries. During his tenure with the WorldGBC, he had the fortunate opportunity to work as a member representative for the United Nations Environmental Programme with a specific goal to deliver a global framework for major carbon reductions in buildings.
As a published author, Mr. Bowerbank has had two of his books on Canada's "bestselling authors" list and he has produced a number of market reports on topics including sustainable urban development, green healthcare, electric vehicle infrastructure, low carbon economics, and more.
Mr. Bowerbank was recently named one of Canada's top 16 sustainability leaders at the Clean50 Awards. He is also the recipient of the prestigious "Ontario Premier's Award" for his career accomplishments. He has received numerous industry awards and recognition for his keynote addresses, an activity he thoroughly enjoys in his efforts to transform our markets through low carbon economics.

This presentation will discuss the past, present, and future of the agriculture industry on a national and global scale. A brief history will be provided on the social and economic factors that have driven the development of current food production practices in North America, as well as an outline on the inefficiencies, environmental damage, and health impacts of conventional agricultural practices and resulting food stuffs. Urban agriculture and controlled environment growing methods will be presented as a solution to climate change adaptation and resiliency, highlighting the cross collaborative opportunities with the AEC industry, and the triple bottom line ROI. Lastly, global emerging trends in both food production and consumption will be shared, focusing on adoption in a Canadian context.
About Natasha
Natasha Arsenijevich is the National Manager of Business and Strategy Development for Sustainability & Energy at WSP Canada. She is responsible for developing a new strategy for Canada's largest sustainability team, bolstering WSP's market presence, and building industry partnerships. Previous to this, she was managing an award-winning national sustainability program, The Carbon Impact Initiative, for EllisDon, one of Canada's largest construction firms. Achievements include, spearheading the development of an app-based LCA tool with the University of Toronto; managing the onsite data collection for Canada's first carbon neutral Heritage retrofit at Evergreen Brickworks; co-authoring awarded grant applications worth $100K – $2.4M; and contributing to The Journey to Net Zero Energy: A Lessons Learned Report, a report outlining the sustainability components in constructing Ontario's first Net Zero Energy Institutional Building. Natasha attended York University from 2007-2014, earning a Bachelors in Environmental Studies Honours, specialized in Environmental Management, and a Master in Environmental Studies, focusing on Sustainable Agriculture & Industrial Food Production.

From making more efficient use of natural resources, to allowing year-round production closer to consumers, vertical farming holds great promise to help overcome long-term challenges in our food landscape.
Although many opportunities exist for some crops that are grown conventionally to move indoors, important questions and challenges remain. These include high capital requirements, building and maintaining consumer confidence, and measuring the true carbon footprint of growing indoors in the entire product lifecycle.
What's more, not all solutions are made equal. With so many different options out there, how does one compare different vendors, growing techniques, and financing vehicles to best fit their needs?
Growcer was born out of the need for northern Canadian communities to access fresh food in one of the world's harshest climates. Now, Growcer's technology for year-round veggie production is used by grocery stores, universities, healthcare food services, conventional farmers, restaurants, and even government — from the Arctic Circle at -54°C to downtown urban settings at 38°C.
About Corey
Corey Ellis is the Co-founder & CEO of The Growcer, a company started with the initial goal of providing a tool for northerners to grow food in Arctic conditions. Launched as a social enterprise under the international Enactus social enterprise organization, Growcer is a recipient of Fast Company's World Changing Ideas of 2018.

The Plant is regarded as a stand-out in the Toronto condo market, integrating urban agriculture into the design of the building.
Rooted in Sustainability, Windmill Developments teamed with Curated Properties on this award-winning boutique condo development featuring street-front retail and second-floor office space. Shared amenities include an internal greenhouse, open concept industrial style kitchen and community garden — innovative suite design maximizing sun exposure providing every resident with a terrace for ample growing space.
While community gardens and rooftop gardens are not new to Toronto's multi-residential communities, Jonathan Westeinde CEO of Windmill, says there's another layer of integration that can ensure the urban development market is coloured with a more positive shade of green.
About Jonathan
Jonathan is founder and CEO of the Windmill Development Group, one of Canada's most well-known green building developers. Windmill has completed over $1B of developments since inception in 2003 with a strong pipeline of future projects in place. Jonathan is specifically interested in creating alternative financing vehicles to embed sustainability into projects and is a recognized leader in Canada for finding innovative solutions for non-conventional lifecycle financing issues. This ingenuity has led to firsts in the green building industry, including innovative partnerships to create zero carbon district energy systems, energy services contracts to introduce geothermal, and green loans. Jonathan's most recent focus has been a new targeted sustainable communities impact investment fund which is currently underway.
Prior to founding Windmill Jonathan was a partner in Venbridge, a venture capital services firm that was a partnership with Gowlings Law firm. Prior to that he was a partner in LOSC, Inc., a Boston based venture capital firm, and held senior positions with Corel Corporation and Exocom Consulting after completing his MBA.
Jonathan sits on a number of profit and non-profit boards.
Jonathan holds an MBA from Trinity College, Ireland and a BA Economics from the University of Western Ontario.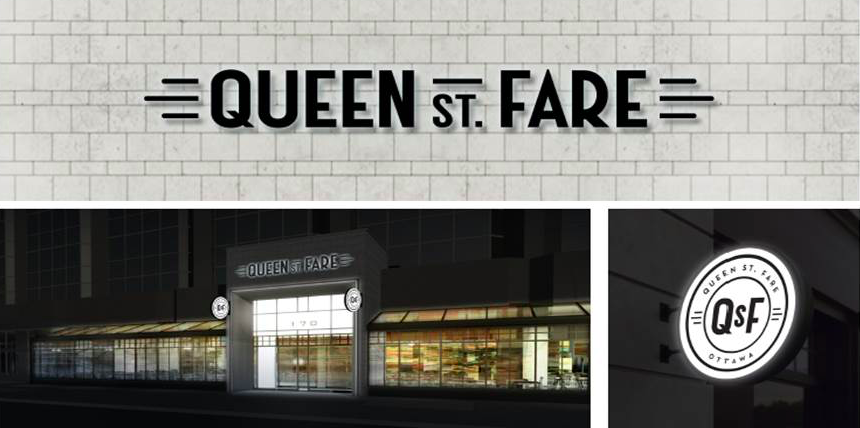 NOTE NEW VENUE 

This event is being held at the new QUEEN ST. FARE 170 Queen Street which is inside the LEED and BOMA BEST Platinum certified Sunlife Financial Centre (99 Bank and 50 O'Connor).
Media coverage brought to you by:


Agenda:
7:15 – Doors open – Networking – Buffet Breakfast
7:45 – Opening remarks
8:00 – Presentation – Andrew Bowerbank, WSP

8:45 – Presentation – Natasha Arsenijevich, WSP
9:30 – Networking Break
10:00 – Presentation – Corey Ellis, The Growcer

10:30 – Presentation – Jonathan Westeinde – The Plant

11:00 – Adjournment
Cost:
RSVP Tickets
$75. plus HST and

EventBrite.com

fees per breakfast.
 $45. Students with valid ID plus HST and

Eventbrite.com

fees.
 $100. Plus HST at the door if not sold out
Enquiries and Sponsorship Information: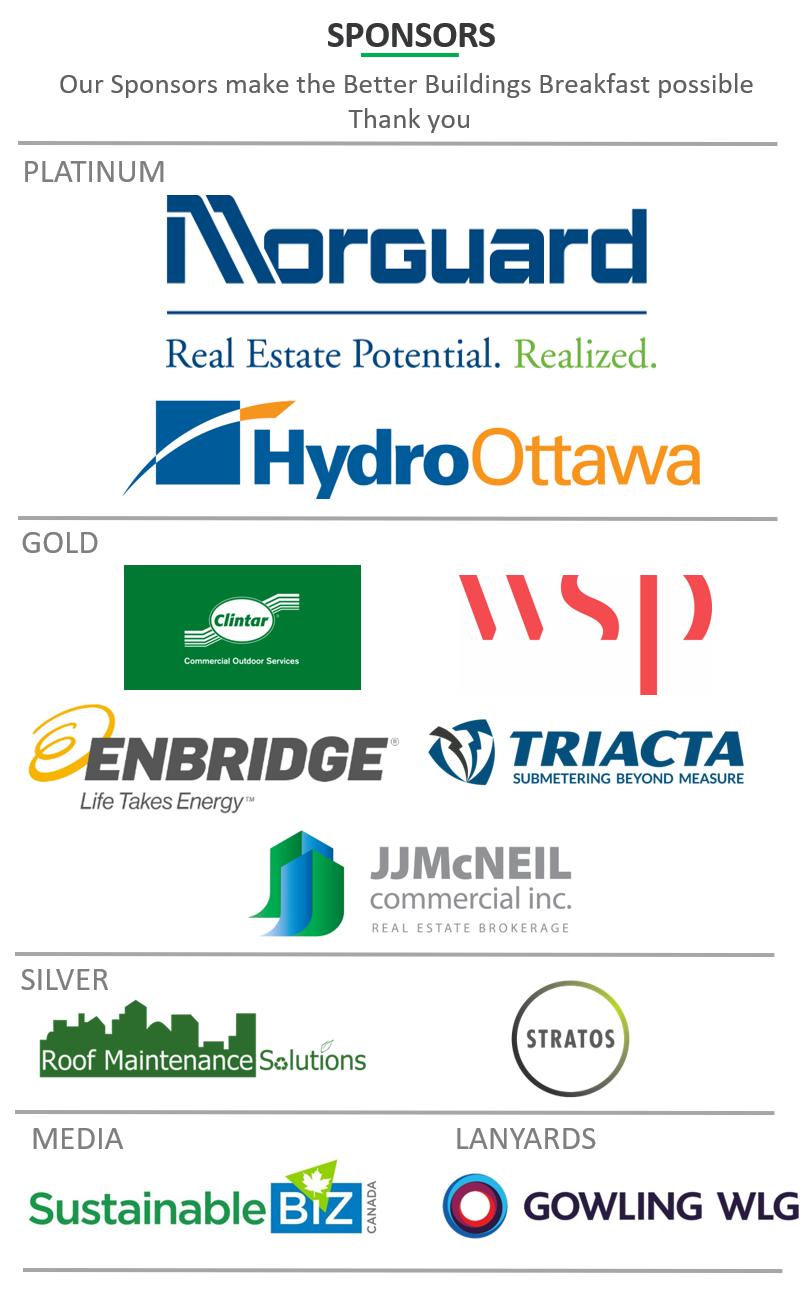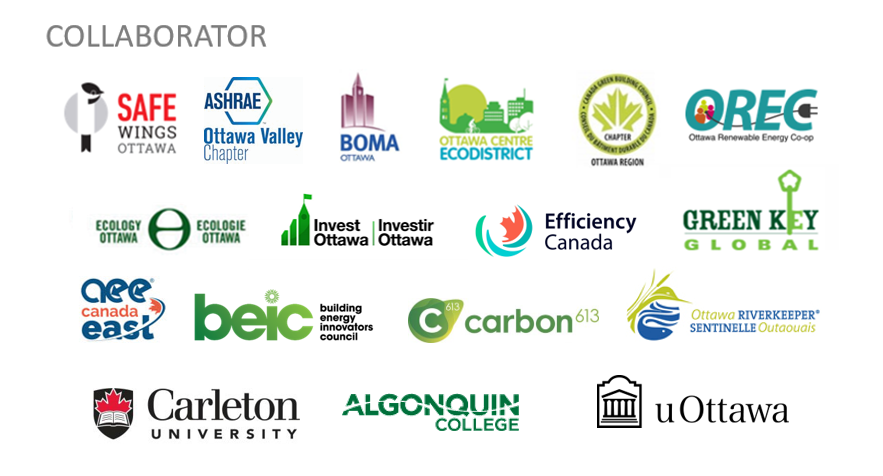 Copyright © 2019 Better Buildings Breakfast, All rights reserved. 
Our mailing address is:
Better Buildings Breakfast,  5 Whitebirch Drive, Kemptville, On  K0G 1J0 Canada